Howdy Howdy Amigos!
I LOVE Pinterest (find my page
here
), but because it can become a huge time sucker, I have resolved to try and actually DO and MAKE a lot of the things I pin. This way I feel more justified spending time there and I don't always have to pine for the "Pinteresting Life". Because of this personal challenge, Hubby and I have found several dinner meals that we have LOVED.
Some disclaimers: These ARE listed in order of our favorites from 'least' (let's face it: they are all good!) to bestest.
ALSO: all pictures used in this post are the pictures I have pinned to my board "Time for Dinner!" and thus are found on the websites listed with each picture! None are my own work!
Okay time to start::
5. Crock Pot Mac and Cheese
This one Hubby will likely argue against but I really enjoyed it. Unfortunately, I made it while pregnant and already dealing with a slightly elevated blood pressure.........cheese did not help that cause. It was very creamy, and of course as a crock pot recipe, incredibly easy to make! My tips? Cut back on the butter by half and add in some flavoring--onions, pepper, paprika, etc. Good stuff!
4. Chicken Fried Steak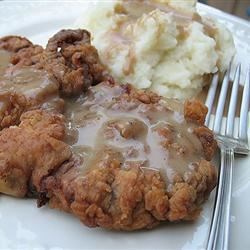 NUM! Hubby found this one.....go figure, he is the main cook *confession*...and actually made it with WAFFLES! Yes, this northern girl tried chicken and waffles and loved it! So while this recipe includes how to make the gravy, we skipped it in favor of maple syrup. It was suuper easy to use but we made modifications. Such as: no hot sauce (ew) and no vegetable shortening. Not exactly quick, but worth your time.
3. Slow Cooked Mexican Pulled Pork
This was FANTASTIC! What more can I say?? We shared it with his family and they all had good reviews as well. It does go exceptionally well with avocado, our new favorite
fruit
around the household. But besides avocado, and perhaps sour cream if you really love it, these tacos don't need anything else. Plus, as if it needed another bonus, it is a slow cooker recipe=EASY! Add it to your weekly meal plan ASAP.
2. Chocolate Chip Oatmeal Pancakes
My husband is not a big fan of breakfast foods, which always breaks my heart. However, every now and then I can convince him to eat chocolate chip pancakes, usually from a box. I stumbled upon this super healthy recipe and went for it. He has now asked for them each week for the past three weeks, this week making week four!!
Now....please understand me: I want to eat healthy, however I do not own 'weird' things like flax eggs, almond butter, almond milk, and whole wheat flour (though I might get this one soon). I did replace all of these things this just plain eggs, butter, milk and flour. Also, note that the recipe listed only makes FIVE pancakes! HA! That is what I will eat in one sitting! But this recipe is a MUST!
1. Stewed Chicken Tacos
Oh. My. Goodness. I was petrified to try this. Hubby knows I can't handle spicy things at all....and I saw him adding these big black chiles to the pot......I wanted to stamp my foot and protest. Boy, am I glad I just tried it. They are not spicy! Eat with avocado, cheese, sour cream, and lettuce. But DO eat them. Unless you adverse to awesomeness. Than don't. Eat regular boring taco meat. This recipe does take awhile to cook but is pretty easy as you pretty much add all the ingredients to a large stock pot to stew. DO IT!!


So that is my Top Five friends!!

Do you have any recipes you have found on Pinterest and loved?? Let me know in the comments below and leave your Pinterest link as well!!